Prescription Pad Designs for Nutritionists in MS Word Format
Have you ever heard of a food doctor? If not, then let me introduce you to a food doctor also known as a nutritionist. This post is actually all about the Nutritionists and Prescription Pad Designs for Nutritionists. Food is an important part of our life and while many may not have any metabolic disorder or any food intolerance, there are some people who suffer from it and have to be extra careful about the food they eat. This is why it is important to consult a specialist about one's dietary needs.
However, people who are health conscious and want to eat healthily can also consult a nutritionist. In this time of information and education, more and more people are becoming health conscious as they are realizing the importance of nutrition. With social media's presence in our life, healthy eating is becoming a thing and more and more people are following the lead.
Download Prescription Templates for Nutritionists in MS Word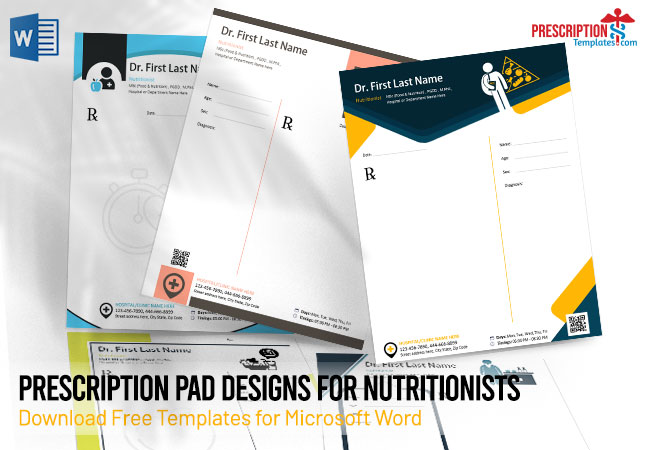 Download and personalize any of the Prescription Pad Templates designed for Nutritionists in Microsoft Word listed below and create a wonderful and attractive prescription pad for you in just a few minutes.
Design # 1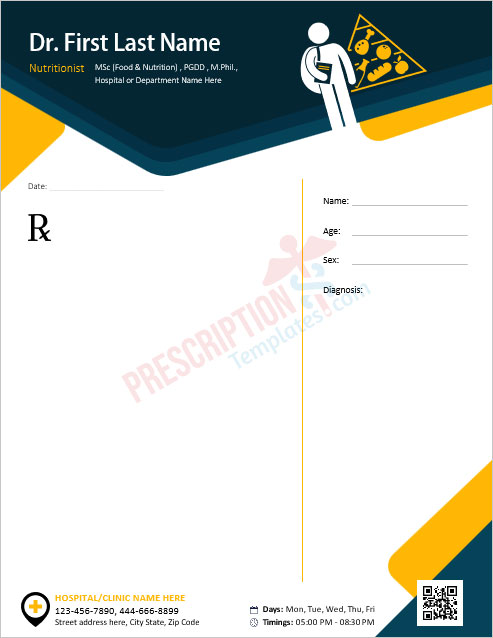 Design # 2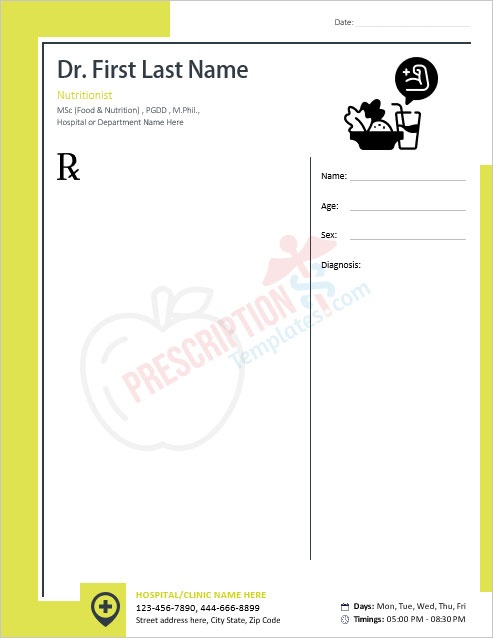 Design # 3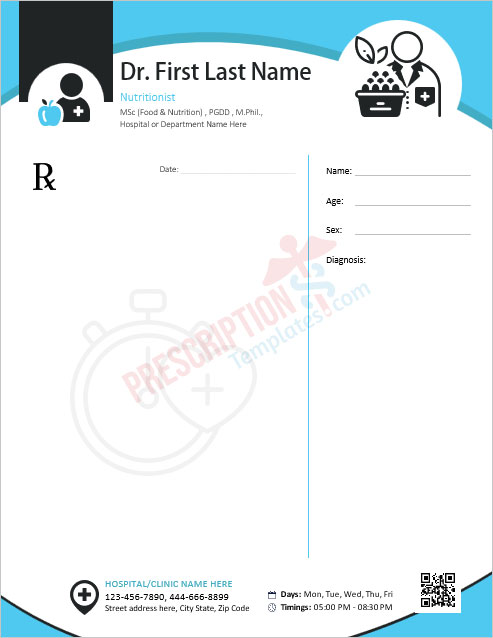 Design # 4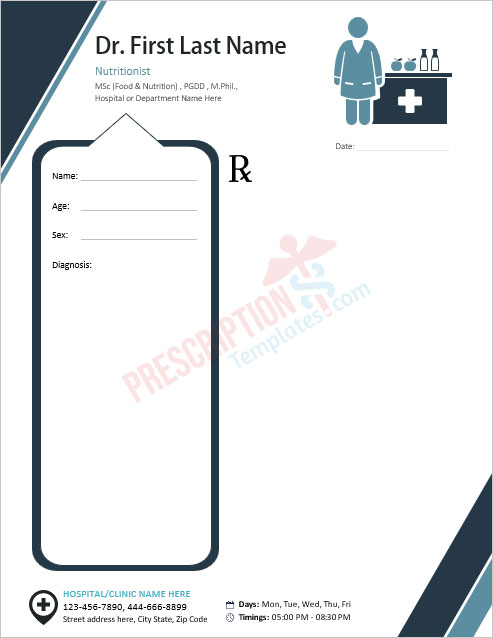 Design # 5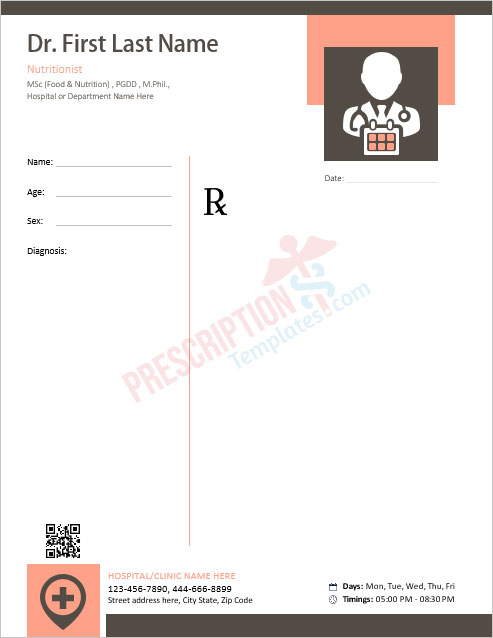 Video Tutorial
Dive into the video tutorial below for a comprehensive guide on MS Word Prescription Pad design.
Who is a nutritionist and what do they do?
A nutritionist is a food and nutrition expert. They educate and guide people about eating habits, and the nutritional value of different foods, and help people build a healthy lifestyle. They make detailed diet plans for people depending on their health needs and budget. A nutritionist who works on food-related allergies or eating disorders is called a clinical nutritionist. They usually work with out-setting and in-setting patients in the hospital.   
Where do they work?
Nutritionist work is very diverse. Their key role is to educate people about health and advise them on healthy eating habits. They can work in various areas such as:
Hospitals or clinics
Private companies
Schools, colleges, or universities
Community healthcare centers or health councils
Sport Industry
Research and development
Animal or livestock industry
Government agencies such as the FDA
What are some important skills nutritionists must possess?
Since their main responsibility is to create awareness about the importance of food, nutrition, and a healthy lifestyle among people. They work closely with people and every person has different nutritional needs depending on their body's requirements. Therefore, interpersonal skills are needed in this profession to deal with the diverse health needs and backgrounds of people, such as:
Communication skills: ability to communicate complex conditions to people in a simple way
Empathy, including body positivity
Teamwork: Helping people set reliable goals
Motivational skills: helping people achieve their nutrition goals
What are some pros and cons of being a nutritionist?
The good thing about this profession is that no workday is the same. There are several people one works with and a variety of health-related conditions one works on. There are also different settings where one can choose to work. It is a good business opportunity as well.
Another perk is that one gets to help people by educating them about their nutritional needs helping them count their daily requirements of carbohydrates, calories, and fats, and instructing them about their cheat days.
The one thing that is both pros and cons is working with people, while it can rewarding, it can also be frustrating. Resolving one's client's differences can be exhausting.