Customize Your Cardiologist Prescriptions Like a Pro with Our MS Word Templates
Revolutionize your prescription process with our expertly crafted templates. Save time, ensure accuracy, and impress patients with our sleek and modern designs. Personalize each template to meet your specific needs with our user-friendly MS Word format. Create professional-looking prescriptions quickly and easily. Streamline your workflow and enhance the efficiency of your practice. Elevate your prescription process with our collection of five templates. Ideal for cardiologists and healthcare professionals in the cardiac health department.
A prescription pad for a cardiologist is a pre-printed form authorized by a healthcare provider and used to prescribe medication to patients with cardiovascular conditions. Cardiology is a specialized field of medicine, and as such, the prescription pad for cardiologists may include additional fields to record specific information such as the type of cardiovascular condition being treated and the specific medication being prescribed. This information is critical in ensuring that patients receive the correct medication and treatment.
Who is a cardiologist?
A cardiologist is a medical doctor who has been trained as an expert to treat conditions and ailments related to the heart and the cardiovascular system. They specialize in diagnosing and treating diseases and disorders related to the heart's rhythm, and arteries, long-term and short-term defects related to the heart, heart attacks, and various infections.
Download Prescription Templates for Microsoft Word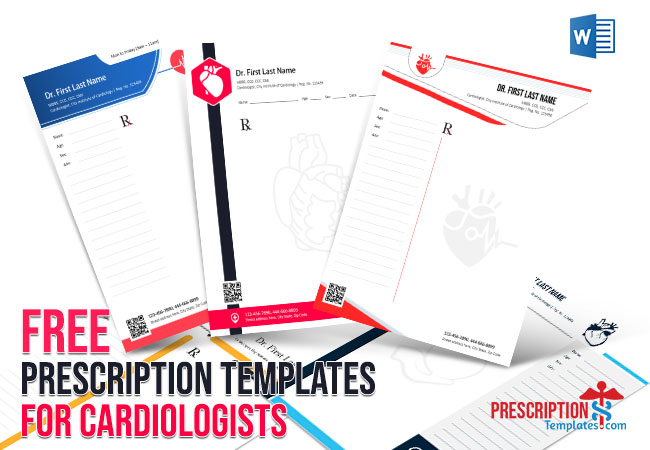 Download nicely designed, beautifully laid-out prescription templates for Cardiologists and Heart-Specialists for Microsoft Word. All of these formats are fully editable and printable for US Letter and A4 Paper Sizes.
#1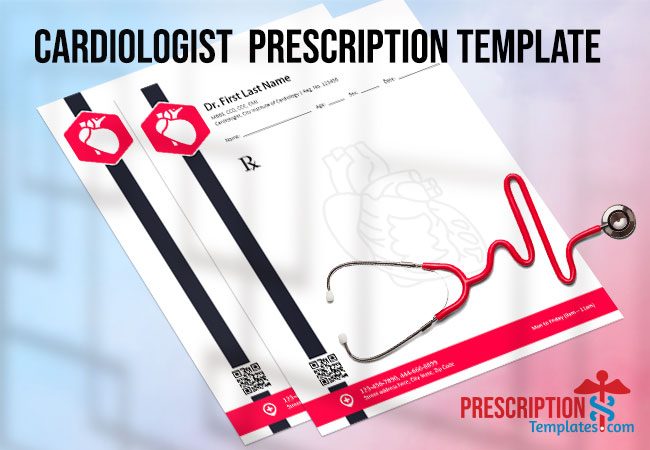 #2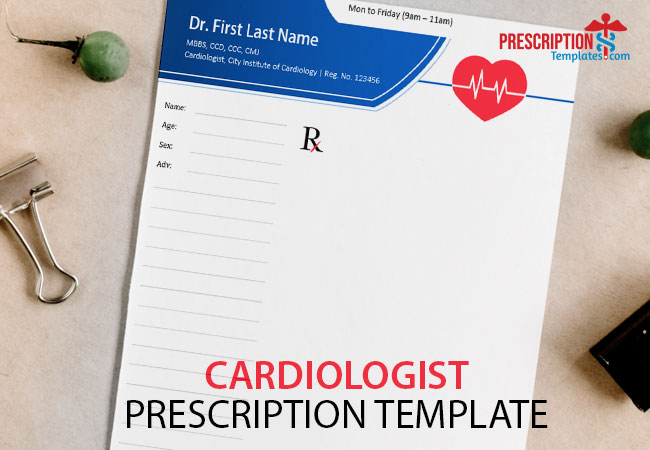 #3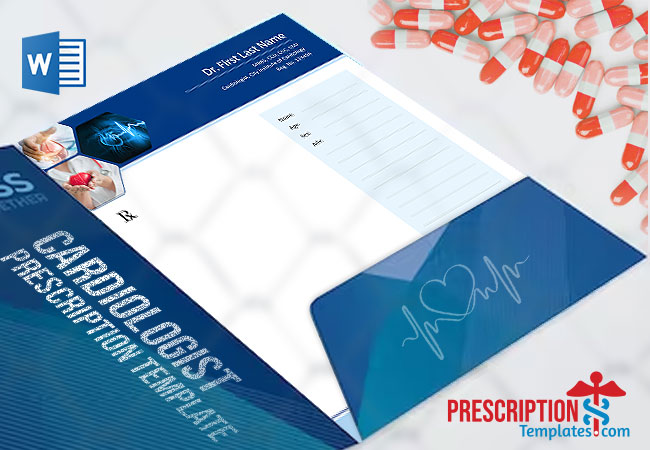 #4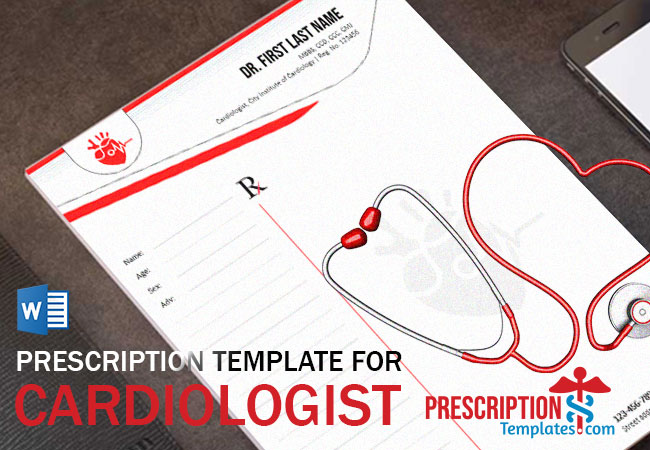 #5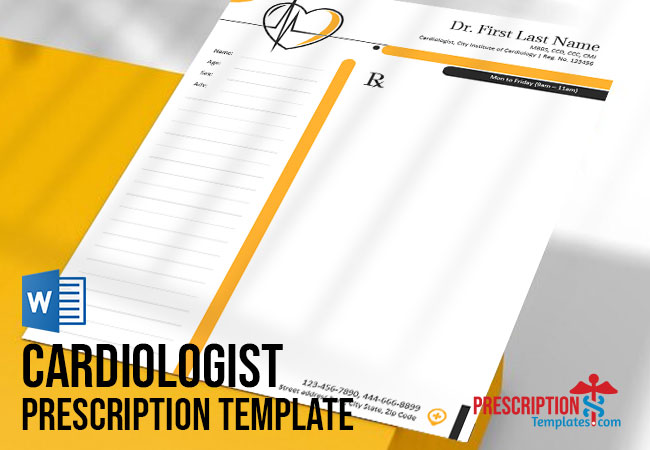 #6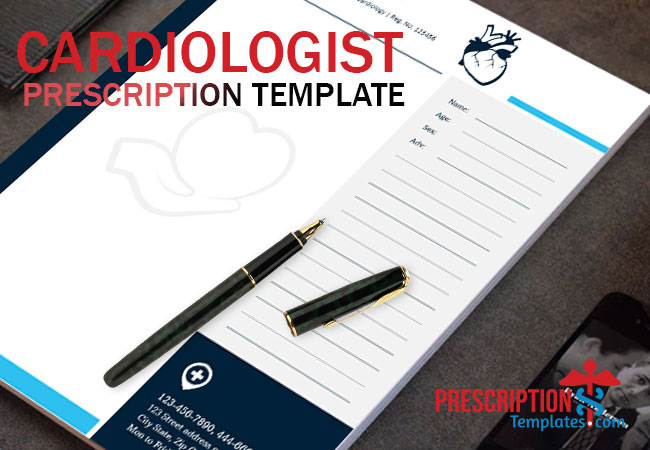 Video Tutorial
Watch the video below to learn How to Design a Prescription Pad in MS Word
Benefits of an Attractive Prescription Pad for Patients and Cardiologists
Cardiologists need a well-designed prescription pad. This pad should look attractive and professional. Patients will trust the care they receive more with a well-designed pad. It can also prevent mistakes and misunderstandings. Mistakes can have serious consequences, especially in cardiology. A good pad can also enhance the patient experience. By paying attention to the details, cardiologists can create a positive environment.
The pad should contain the necessary information, like the patient's name, medication prescribed, and dosage. It should be easy to read and understand, even for patients with limited health literacy. A good prescription pad is critical for any cardiologist when prescribing medication and treatment. It builds trust, prevents errors, and enhances the patient experience. It's crucial to ensure that the pad is designed well and contains all the necessary information.
When do we generally need to visit the cardiologist?
As evident from the word cardio referring to the "heart" and cardiology standing for the study of the heart, a cardiologist is visited when someone is experiencing disorders related to the heart. In addition, the cardiologist is also paid a visit in case someone is experiencing a cardiovascular problem. The term cardiovascular means conditions related to blood vessels and the entire system in connection.
They also help rule out risk factors that you are likely to face when it comes to your heart. You can learn the habits, dietary behaviors, and lifestyles that are expected to impact your heart's well-being.
Why are cardiologists considered to play an integral role in the healthcare system?
With heart diseases becoming more prevalent globally, cardiologists have earned very important recognition. Cardiovascular diseases have been recognized as one of the leading sources of mortalities around the world.
Here are a few reasons why cardiology is becoming one of the most famous healthcare professions worldwide:
More and more aging citizens getting affected by heart-related conditions due to changing lifestyles and altered food habits.
Better healthcare facilities for all and a greater number of populations that can easily access professionally well-known doctors
A greater number of insured individuals do not have to worry about the affordability
Better and more informed procedures, treatments, and technological inventions for improved treatment of heart-related problems.
What are the different types of cardiologists?
Cardiology is one of the most diverse fields in the world. It is getting increasingly popular in several fields. Clinical cardiologists are responsible for diagnosing, medically managing, and preventing cardiovascular diseases. Clinical cardiologists can be categorized as adult cardiologists and pediatric cardiologists. The rest of the cardiologists are surgeons or qualified professional experts in treating heart ailments through the latest interventional procedures and techniques. These techniques include coronary artery and stent implantation, defibrillation, electrocardiography, angioplasty, pacemaker insertion, and many more.
When should we see a cardiologist immediately?
Most of the population believes that only aged people get to see cardiologists often. However, this is false in general. Younger people are equally prone to heart diseases, most of which are a result of unhealthy lifestyles and poor dietary behaviors. You may want to go pay your cardiologist a visit if you are experiencing chest, shoulder, jaw, or arm pains, are smoking for a long time, have a family history of congenital heart diseases, have BP issues, are experiencing frequent palpitations, or have cholesterol issues.
In quite a lot of cases, these are false symptoms referring to other problems in the body but not heart diseases specifically. One must, however, never take a heart-related condition lightly. Even the slightest ignorance can cost you a huge health loss.
The Role of Blood Pressure Monitors in Maintaining a Healthy Heart: 10 Reasons and Recommendations!
Protect your heart with regular monitoring. Use a blood pressure monitor for early detection and prevention of cardiac disease. Here are 10 reasons why it's vital.
Hypertension often goes undetected without regular monitoring.
Regular monitoring can detect and treat BP fluctuations quickly.
Early detection and prevention of cardiac disease are crucial.
BP fluctuations can indicate an increased risk of heart disease.
Regular monitoring can prompt lifestyle and medication modifications.
Hypertension is a chronic condition that requires frequent monitoring.
Blood pressure monitors are affordable and easy to use at home.
Keeping track of your BP can help you understand your overall health.
Consistent monitoring can prevent heart attacks, stroke, and kidney disease.
Taking charge of your health starts with taking care of your heart.