Customizable Prescription Pad/Letterhead Templates for Pharmacists
Who is a pharmacist?
Unlike a regular doctor, a pharmacist is a person at a pharmacy, who provides medicines to people on demand. A pharmacist in reality is a healthcare professional who is also known as the Doctor of Pharmacy. In order to pass the doctor of pharmacy degree (PharmD), you are required to get an education for about six to eight years. This is when a qualified pharmacist is ready to get into practical work.
Download Editable Templates in Microsoft Word Format
On this page, down below, you can download some nicely laid out, beautifully designed letterhead templates specially designed for Pharmacists in MS Word. You can personalize them in any way you want to print a high-quality prescription pad or a letterhead pad for you.
#1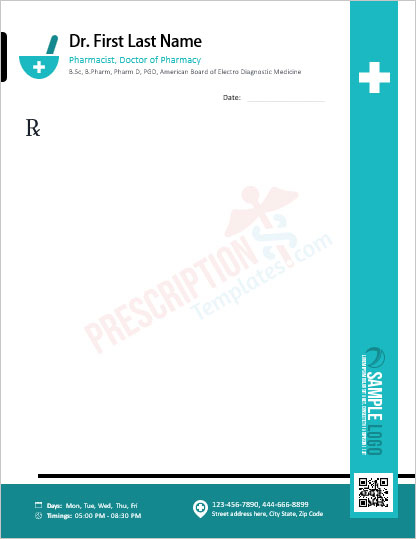 #2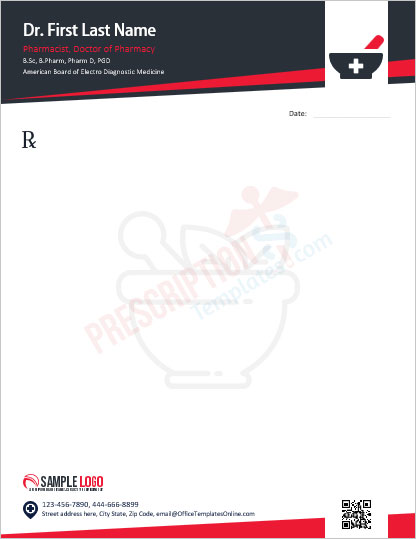 #3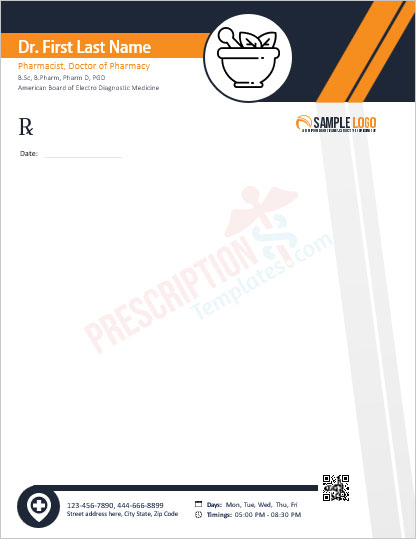 #4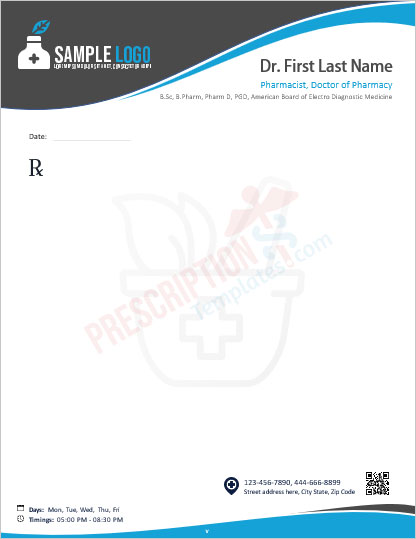 #5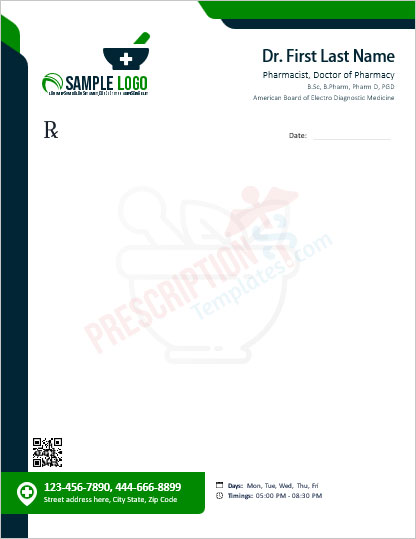 What duties are performed by a pharmacist?
A pharmacist has been trained to make rules and keep a check on the storage, provision, handling, preparation, and out-supply of medicines. Their responsibility is to provide the right, detailed information to patients regarding the medicine. One of the most critical things they need to do is to "cross-check and verify" that the medicines prescribed to a specific patient are harmless and would not trigger a reaction inside the body. This is why people are highly dependent on their pharmacists besides their physicians.
Other more specific responsibilities include:
To supervise the prescription of medicine to the patients or prepare a prescription based on the recommendation by the physician
To ensure the quality medicines for prescription and supply
To inform the general public on how and when to take the prescribed medicines (what time is suitable for taking this medicine, what medicines cannot be consumed together, which foods to avoid after or before taking this dose, etc.)
To administer vaccines for specific diseases
To inform patients and physicians about newly introduced medicines and their effectiveness
To provide special care and services to patients with special conditions (such as the elderly, the weak, the addicts, pregnant and lactating women, people with severe diseases, and infants.)
To supervise the process of drug production, and supply in pharmaceutical companies
To provide basic health info to the public on topics such as Covid-19, stress management, medication management, improving quality of life, quitting bad habits, etc.
Where are we expected to find a pharmacist?
A pharmacist can be found in specialized pharmacies but in many countries, the common roadside pharmacies do not have a trained pharmacist in them. Usually, store men are dealing with medicines and provide them to people only based on their physician's prescription. In other more developed countries hospitals, diagnostic pharmacies, and laboratory settings have a professional pharmacist to guide the patients.
Pharmacists are also found in particular settings where their duties are specific to that setting, for example, a doctor of pharmacy inside an oncology center would make sure the medicines prescribed are safe for the patient based on his/her condition. Other settings where pharmacists work include:
Drug rehab centers
Hospitals
Maternity clinics
Asylums and mental hospitals
Skin clinics
Community welfare centers
Community pharmacies
Old age homes
Pharmaceutical companies (for testing)
Medical schools
Military settings
Jails and detention centers, etc.
What are the different types of pharmacists?
[pharmacists found at pharmacies are just one of the many types. They are recognized as 'retail pharmacists' or 'community pharmacists' and are expected to provide basic medication and educate the public on various health-related issues. Other types include:
| | |
| --- | --- |
| Clinical pharmacists | Advising patients and doctors on the most suitable medicines |
| Oncology pharmacists | Experts in chemotherapy and cancer drugs |
| Pharmaceutical industry pharmacists | Experts in drug research and development |
| Nuclear pharmacists | Experts in producing radioactive materials for CT scans, MRIs, etc. |