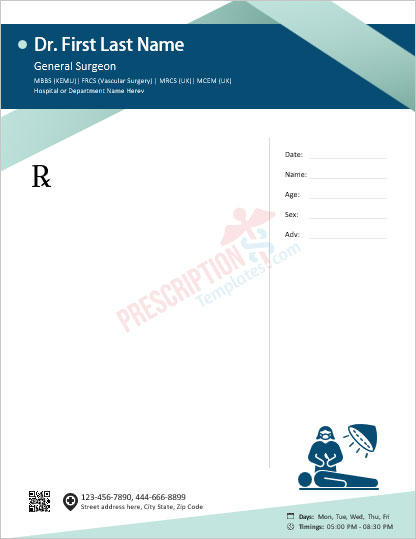 Are you a surgeon looking for a Prescription Pad Template that is both professional and user-friendly? Look no further! Our free Prescription Pad Template for Surgeons in MS Word format is just what you need. This template is designed with four main parts, including an area for the surgeon's information, patient information, the actual prescription, and the surgeon's contact and address details.
The top head section of the template is where you can easily customize your name, degree, hospital, or healthcare name, and the beautiful icon that is actually part of the design. The patient's information area includes spaces to write the patient's name, age, sex, and the doctor's advice. The actual prescription section is where you can easily fill out the medication details, dosage, and frequency. Finally, the bottom section is where you can write your working days and hours as well as your contact and address information, along with the QR code.
Using this template is easy and straightforward. It is fully editable and customizable, so you can quickly add your own information and create a printable prescription pad in just a few minutes. Simply download the template, open it in MS Word, and start filling out the information fields. Once you're done, you can print out your customized prescription pad and start using it right away.
As a surgeon, you are committed to helping your patients maintain good health. Here are some tips you can suggest to your patients to help them avoid health issues:
Maintain a healthy diet: Eating a balanced diet that is rich in fruits, vegetables, lean protein, and whole grains can help prevent many health problems.

Exercise regularly: Regular physical activity can help maintain a healthy weight, improve cardiovascular health, and boost overall well-being.

Get enough sleep: Lack of sleep can contribute to a variety of health issues, including high blood pressure, diabetes, and obesity. Aim for at least seven hours of sleep each night.

Don't smoke: Smoking is a leading cause of lung cancer, heart disease, and other health problems. Encourage your patients to quit smoking or never start.

Manage stress: Chronic stress can contribute to a variety of health problems, including anxiety, depression, and heart disease. Encourage your patients to find healthy ways to manage stress, such as meditation, exercise, or therapy.