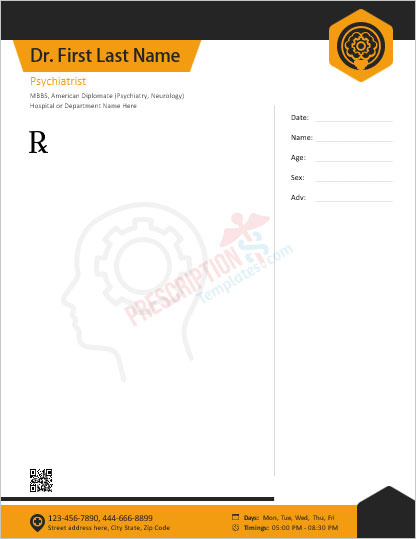 For psychiatrists, having a professional Prescription Pad Template is crucial in providing the necessary care and treatment for their patients. Our free Prescription Pad Template for Psychiatrists in MS Word format is designed with four main parts that will help streamline the prescription process. The top head section of the template includes the psychiatrist's information, such as their name, degree, hospital, or healthcare name, and a beautiful icon that is actually part of the design. The patient's information area includes spaces to write the patient's name, age, sex, and the doctor's advice. The actual prescription section is where psychiatrists can easily fill out the medication details, dosage, and frequency. Finally, the bottom section is where psychiatrists can write their working days and hours as well as their contact and address information, along with the QR code.
Using this fully editable and customizable template, psychiatrists can quickly add their own information and create a printable prescription pad in just a few minutes. Once downloaded, they can open the template in MS Word and begin filling out the relevant fields with patient and medication details. The Prescription Pad Template for Psychiatrists is easy to use, allowing psychiatrists to efficiently provide the necessary care and treatment for their patients.
As psychiatrists, it is our responsibility to not only provide treatment but also offer advice on maintaining good mental health. Here are some tips psychiatrists can suggest to their patients:
Practice self-care: Encourage patients to prioritize self-care by practicing relaxation techniques, engaging in activities they enjoy, and taking care of their physical health.

Seek support: Patients should seek support from family, friends, or mental health professionals when needed. Encourage patients to join support groups or consider counseling or therapy.

Manage stress: Encourage patients to manage stress through healthy coping mechanisms such as exercise, mindfulness, and time management.

Maintain healthy relationships: Good relationships with family and friends can provide a support system that can help patients through difficult times.

Get adequate sleep: Adequate sleep is essential for mental health. Encourage patients to prioritize good sleep habits, such as establishing a regular sleep schedule and avoiding caffeine and electronics before bed.