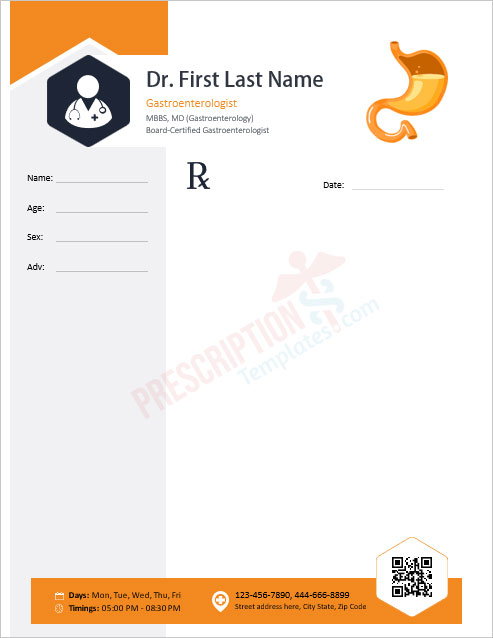 Imagine having a prescription template that not only simplifies your daily practice but also enhances patient care. That's precisely what our Gastroenterologist MS Word Prescription Template offers. This template is your dedicated tool, carefully designed to streamline your prescription process and elevate your professionalism.
Unveiling the Benefits
This template goes beyond convenience; it's a game-changer. Here's why it stands out:
Effortless Customization: You can seamlessly edit this MS Word template with your patient's information, diagnosis, and prescribed medications. It's like having your own prescription pad but in digital form, ensuring accuracy and professionalism.
Time-Saving: Say goodbye to the time-consuming task of handwriting prescriptions. This template allows you to create precise and legible prescriptions in moments, freeing up more of your valuable time for patient care.
Compliance Assurance: Our template helps you stay compliant with healthcare regulations. It ensures that every prescription you write adheres to the rules, providing peace of mind for you and safety for your patients.
Using Your Template
Using this template is as easy as 1-2-3:
Open and Customize: Open the MS Word template on your preferred device. Customize it with your patient's details, diagnosis, and prescribed medications.
Clarify Dosage and Instructions: Specify the dosage and provide clear instructions on how the medication should be taken, ensuring your patients receive comprehensive guidance.
Save or Print: After reviewing the details for accuracy, save the completed template for your records or print it for your patient. It's that simple.
Experience the convenience, accuracy, and professionalism of our Gastroenterologist MS Word Prescription Template. Try it out and discover how it can transform your practice for the better.