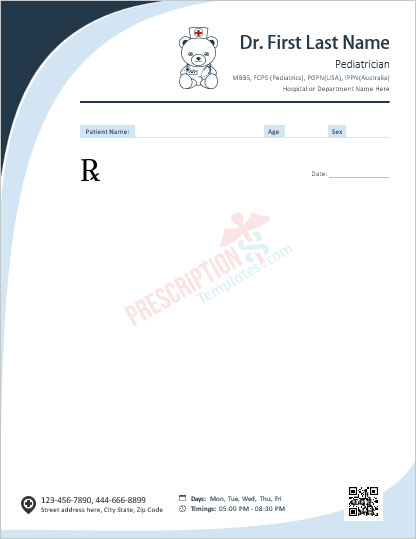 The Prescription Pad Template for Pediatricians in MS Word format is a valuable resource for healthcare professionals who cater to the unique medical needs of children. The template features four primary components, including a top head section that accommodates the doctor's information. This section includes crucial details such as the doctor's name, degree, hospital or healthcare name, and a beautiful icon that adds to the template's professional appearance.
Another section of the template is dedicated to the patient's information. This area allows doctors to write essential details such as the patient's name, age, sex, and medical advice. The patient information section is an essential part of the template as it helps doctors to identify their patients quickly and provide appropriate medical care.
The third section of the template is designed explicitly for writing the prescription. This section is where doctors can write specific details on the medication that they are prescribing. It is a critical part of the template as it ensures that the medication prescribed is accurate and safe for the patient. Finally, the bottom section of the template is dedicated to the doctor's contact and address information, including working hours, ensuring that patients can easily reach the doctor when needed. The QR code provides an added level of convenience, allowing patients to scan and store the information for future use.