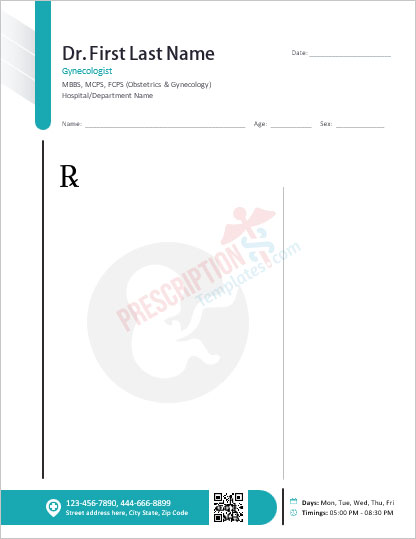 This template is perfect for gynecologists who want to create professional and beautiful prescription pads that meet the requirements of their patients. With its eye-catching colors and well-organized layout, this template will help you create a lasting impression on your patients.
Our prescription template is designed in different sections to make it easy for you to fill in your details. It includes sections for your name, qualification, healthcare information, patient information, doctor's available days and time, healthcare contact information with a QR code, and a wide area to write the actual prescription. The placeholders for each section are carefully designed and placed, making it very easy for you to edit and customize with your own information.
Using this template, you can create prescription pads quickly and efficiently, which will help you to focus on providing excellent healthcare services to your patients. You can download this template for free and use it as many times as you want. We hope that this template will help you in your practice and provide you with a hassle-free experience. So, download our free Prescription Pad Template now and take your practice to the next level!
Here are 15 sample suggestions that a gynecologist can prescribe to her patients:
Hormonal contraceptives to prevent pregnancy and regulate menstrual cycles.
Vitamin D supplements to support bone health.
Antibiotics to treat bacterial infections such as UTIs or STIs.
Vaginal moisturizers or lubricants to alleviate dryness and discomfort.
Antifungal medications to treat yeast infections.
Iron supplements to prevent or treat anemia.
Non-steroidal anti-inflammatory drugs (NSAIDs) to manage menstrual pain or inflammation.
Prenatal vitamins for pregnant women to support fetal development.
Hormone replacement therapy (HRT) to alleviate menopausal symptoms.
Mammograms or breast exams to screen for breast cancer.
Pap smears to screen for cervical cancer.
Pelvic floor exercises to improve bladder control and alleviate pelvic pain.
Behavioral therapy to manage stress or anxiety related to gynecological conditions.
Weight management strategies to reduce the risk of complications such as PCOS or gestational diabetes.
Referral to a specialist for further evaluation or treatment of complex gynecological issues.