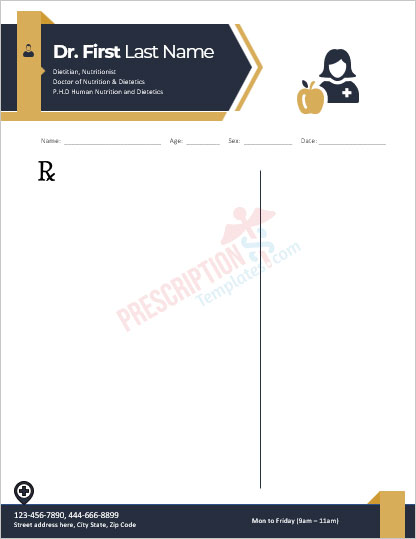 Attention dietitians! Are you tired of writing down nutrition recommendations on scrap paper or plain prescription pads? Say hello to our free Prescription Pad Template designed in Microsoft Word specifically for dietitians! This template features a professional layout with eye-catching colors to make a lasting impression on your clients.
Our Prescription Pad Template is divided into different sections to make it easy for you to provide customized nutrition recommendations for your clients. The sections include the doctor's name, qualifications, healthcare information, patient's information, doctor's available days and time, healthcare contact information with a QR code, and a wide area to write the actual prescription. The placeholders for each section are carefully designed and placed, making it simple to edit and customize with your own information.
With our Prescription Pad Template, you can easily create personalized nutrition recommendations for your clients. You can download this template for free and use it as many times as you need. This template will not only help you provide excellent healthcare services but also make your practice stand out. So, download our free Prescription Pad Template now and take your practice to the next level!
Here are 10 sample nutrition recommendations that you can prescribe to your clients using our Prescription Pad Template:
Increase daily water intake to 8-10 glasses.
Consume a variety of fruits and vegetables daily.
Limit processed foods and added sugars.
Incorporate lean protein sources such as chicken, fish, or tofu.
Choose whole grains over refined grains.
Use healthy fats such as olive oil or avocado.
Monitor portion sizes to maintain a healthy weight.
Increase physical activity to at least 30 minutes a day.
Limit alcohol consumption to moderate levels.
Consider taking a daily multivitamin as needed.